Creating Service and Parts Coupons
Fixed Ops is used to display your monthly Service and Parts coupons. You have the ability to customize the layout and content of your coupons, set expiration dates and also link them to mobile wallet* coupons.
*Wallet capabilities are only available in the Plus and Premier packages
1. ADD NEW COUPON
2. FILL OUT TITLE, COUPON TYPE, AND DESCRIPTION
Give your coupon a title.
In the main text box, add in an extra description about the coupon.
Type or select your coupon type. Coupons in Fixed Ops can have multiple categories and they work like tags rather than a hierarchical structure. The tag names are used in the shortcode to list specials of a specific type.
3. ADDITIONAL FIXED OPS SETTINGS
The "Icon Image" can be used to display on the left corner of a Service or Parts coupon. Use the "prev" and "next" button to scroll through the icon images already uploaded.
A "Featured Image" if chosen will display at the top of the coupon and replace the "Icon Image."  .png images are ideal. The Fixed-Ops Featured Image size is 500px X 315px.
The background color can be changed for the transparent images.
The subheading section is for additional information about the coupon/special. This can be used to add more info about an offer, e.g. a price or 10% off… etc.
Disclaimers will display in small text underneath the coupon heading, content, and subheading.
This expiration date will bring the coupon off of the live site and into draft mode at the end of the selected date.
Bulk Editing Expiration Dates
Using the "bulk edit" feature will allow you to update the expiration date for multiple coupons at one time.
1. These three coupons currently have different expiration dates. 2. Check the "Title" box to select all coupons that
need to be edited (you can then deselect any individual coupons that do not need to be edited.)
Accessing the bulk expiration date editor
1. Click "Bulk Actions" to pull up drop list. 2. Select "Edit" from the drop list. 3. Click "Apply" to open the bulk
expiration date editor.
Setting your bulk expiration date update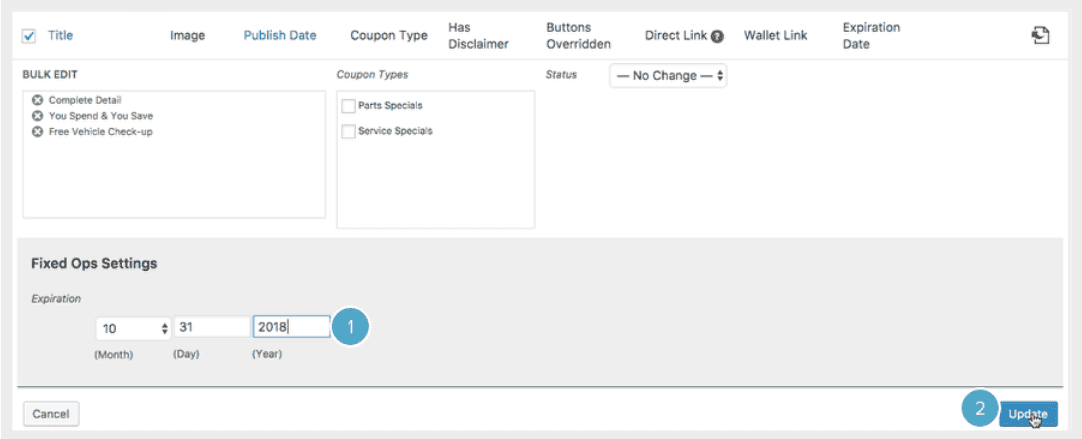 1. Input your desired expiration date. 2. Click "Update" to save your new expiration date.
All of your selected expiration dates have now been updated.